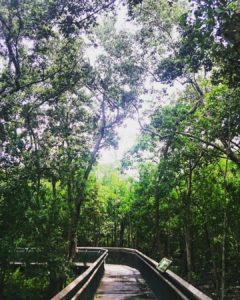 Nature Adventures SG conducts guided walks in various parks, nature reserves, and other green spaces all over Singapore. These walks are an excellent way for members of the public, schools, and corporate groups to get acquainted with the fascinating plants and animals that live in our midst, find out about conservation challenges, and learn how to help safeguard Singapore's natural heritage.
Rates: S$100.00 per hour for a group of 10 to 20 participants. For larger groups, arrangements can be made to bring in additional guides.
These walks are typically 2 to 4 hours long, and cover a wide range of habitats.
For those who don't mind getting their feet wet, intertidal walks at some of our seashores can be arranged. These walks, which will be held during suitable low tides, allow participants to get a closer look at the wide variety of marine life that thrives on our shores.
Photo: Lumnitzera Walk, Sungei Buloh Wetland Reserve and Polka-dot Nudibranch, Sentosa